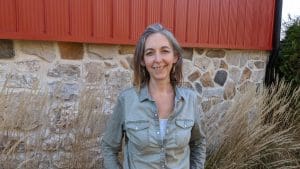 Claire McGlynn
Physiotherapist
Claire incorporates a variety of modalities into her Physiotherapy treatments. Often combining joint mobilization / manipulations, soft tissue massage, medical acupuncture, GUNN IMS (dry needling), therapeutic taping, nerve mobilizations, therapeutic exercise, functional strength training and lifestyle coaching.
Having the freedom to move without pain, while simple, is also crucial to living a life that is fulfilling and meaningful-both physically and emotionally. When we are in good physical health, we can excel in our jobs, achieve important goals, show up for our community of friends and family-in essence, enjoy all of life's joys and tackle all of life's challenges.
That is why I feel so fortunate to have a physiotherapy career, spanning over 19 years, that allows me to help people move and feel better.
I have extensive experience treating clients with a wide variety of acute and chronic back pain and peripheral injuries.
Some common pathologies include:
back strain
osteoarthritis
whiplash, neck pain
headaches/migraines
rotator cuff problems
Knee (ACL/MCL/meniscal tears)
hip labral pathologies
pelvic girdle pain
ankle sprains
repetitive strain
postural dysfunction
concussion symptoms
and more.
I have additional training in vestibular dysfunction (vertigo, BPPV, dizziness and balance disorders) and in treating persistent symptoms following concussion.
And, I also help those who are doing just fine but want to stand taller, sit longer, jump higher, run faster or lift heavier!
I hold a Diploma of Advanced Manual and Manipulative Physiotherapy from the Canadian Physiotherapy Association, a Certificate in Contemporary Medical Acupuncture from McMaster University and I am a certified GUNN IMS provider (dry needling).
I look forward to meeting you and working together to help you be the best version of you!