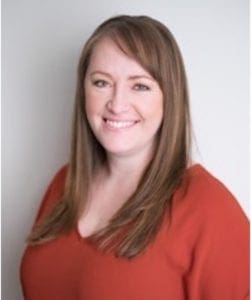 Jen Lachambre
Massage Therapist
Jen Lachambre, RMT graduated from the Canadian College of Massage and Hydrotherapy (CCMH). She has completed a variety of post-graduate courses including TMJ Dysfunction, Pregnancy, Pelvic Health, and Cupping.
Treatments with Jen
Jen is passionate about providing individualized care and getting to the root cause of your pain. Sessions usually include some assessment and utilize a variety of techniques, such as Swedish massage, fascial techniques, trigger point therapy, stretching, and joint mobilizations. She customizes the treatment to your specific needs and provides homecare to gain the maximum benefit from your massage.
Additional post-graduate training:
TMJ dysfunction
Myofascial release for the mouth, jaw and tongue
Pelvic health
Prenatal massage
Myofascial release
Joint mobilizations
Cupping
Jen's prenatal massage therapy education also included a practical component in the High-Risk Unit at Sunnybrook Hospital. There she treated clients with various issues such as gestational diabetes and hypertension.
Aside from treating common musculoskeletal issues such as strains/sprains, headaches, TMJ dysfunction, and chronic muscle tension, Jen also has a special interest in pelvic health and how massage therapy can help with Pelvic Floor Dysfunction (PFD). Some common conditions associated with PFD are endometriosis, IBS, chronic prostatitis, etc, and may include symptoms such as pelvic and/or low back pain, urinary incontinence/leakage, or pain with intercourse.
Prior to becoming an RMT, Jen's passion was in Latin dance and she had her own studio in Regina, Saskatchewan. Jen's other passions include language and travel, which has taken her on many global adventures. She spent a year in Germany teaching English studies to children, and a year in Cuba to study Spanish at the University of Havana. Jen is a current member in good standing with the College of Massage Therapists of Ontario. She is also fluent in Spanish.
When not working, you will often find Jen sipping a cortado, reading a good book, or dancing at the salsa club!