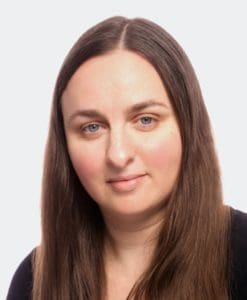 Oksana Kolibaba
Registered Acupuncturist, Registered Traditional Chinese Medicine Practitioner
Oksana Kolibaba, R.TCMP, R.Ac is committed to working in partnership with her patients to achieve optimal health and well-being. She is a graduate of the four-year Traditional Chinese Medicine program at Eight Branches Academy of Eastern Medicine and is trained to diagnose and treat a wide variety of conditions. Oksana is also a Member of the International Association of Chinese Medicine Dermatology
She has a keen focus on treating both acute and chronic injuries, such as back pain and sciatica, as well as neck, shoulder, elbow, hip, and knee injuries. The treatment of disc herniations is of particular interest to Oksana since she herself has undergone successful and lasting treatment for this condition utilizing acupuncture and Chinese medicine. She also treats a broad range of neurological concerns such as Bell's Palsy, paralysis, and post-stroke complications.
Treatments with Oksana Kolibaba
Her approach to treatment is gentle and she utilizes the entire spectrum of modalities within the Chinese medical framework. Her focus is to treat the underlying cause of each patient's individual health concerns. Oksana takes time to conduct a thorough health history, actively listening to each patient's health concerns. She works closely with her patients to develop a unique treatment plan that best suits their recovery and lifestyl
Oksana is a registered member of the College of Traditional Chinese Medicine Practitioners and Acupuncturists of Ontario (CTCMPAO). As well as the People's Organization of Community Acupuncture (POCA), and the National Acupuncture Detoxification Association (NADA). She is an avid supporter of Traditional Chinese Medicine Ontario (TCMO).
Acupuncture and TCM for Dermatology
Oksana continues to deepen her knowledge of Chinese and Integrative Medicine through advanced studies of formative Chinese medical classics, including Shang Han Lun, Jin Gui Yao Lue, and the Wen Bing Xue. She has recently completed additional post-graduate studies in Chinese Medical Dermatology with Mazin Al-Kafaji of Avicenna Centre for Chinese Medicine UK at the Pacific College of Oriental Medicine in New York City.
In support of this learning, she is interning with seasoned TCM herbalist Adina Stanescu, R.TCMP, R.Ac at the TCM Clinic in Toronto. Here, she is involved in an in-depth clinical study of internal and topical Chinese herbal medicine. As well as formula composition for acute and chronic skin conditions.
Outside of the clinic, Oksana is an avid gardener and enjoys hiking, cycling, and cooking up a storm.