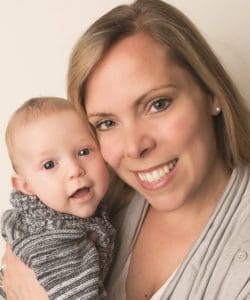 Sarah Nottingham
Massage Therapist, Clinic Director
Sarah Nottingham, RMT graduated in 2005. Over the past decade, her career has evolved from working in clinical settings and sports medicine facilities to opening her own clinic in 2015.
Sarah sees a number of different patients in her practice, from weekend warriors and competitive athletes to expectant moms and newborn babies. She has extensive experience treating prenatal and postnatal massage complaints, along with complex TMJ injuries.
Massage for Children
Through out her career Sarah has completed a number of post-graduate courses. In 2016, she pursued a unique opportunity to study with Dr. Tiffany Field at the Touch Research Institute in Miami, Florida. Here she was immersed into Dr.Field's research on the positive outcomes of massage therapy for newborn infants. Participants were trained and provided practical hours applying massage therapy to preterm infants in the Neonatal Intensive Care Unit at Holtz Children's Hospital in Miami.
Sarah's work with children continued to include additional studies in Pediatric Craniosacral therapy (Cranial Therapy Centre), and becoming a Certified Infant Massage Teacher (Liddle Kidz).
Additional courses include Orthopedic Massage, TMJ dysfunction, Cranial Mobilizations, Visceral Release.
Sarah enjoys travelling with her family and maintaining an active lifestyle. She has a background in long distance running and sprint level triathlon. Sarah understands first-hand the impact that training plays on the body. And how crucial bodywork is to achieve your athletic goals.
Sarah is a current member in good standing with the Registered Massage Therapists' Association of Ontario and the College of Massage Therapists of Ontario.