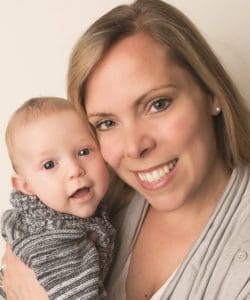 Sarah Nottingham, RMT
Registered Massage Therapist, Certified Infant Massage Teacher, Clinic Director
Sarah Nottingham, RMT, graduated in 2005. Over the past decade, her career has evolved from working in clinical settings and sports medicine facilities to opening her own clinic in 2015.
Sarah sees a number of different patients in her practice, from weekend warriors and competitive athletes to expectant moms and newborn babies. She has extensive experience treating prenatal and postnatal massage therapy, along with TMJ massage therapy.
Sarah's thorough approach to care is welcomed by her patients. Her treatments are customized to the patient and their specific needs. An initial intake includes treatment and recommendations for homecare.
Over the years, Sarah has taken numerous post-graduate workshops and courses. In 2016, she had the opportunity to study with Dr. Tiffany Field at the Touch Research Institute in Miami, Florida, where she learned the research protocols for infant massage therapy. Here, she had hands-on experience providing massage therapy to preterm infants in the Neonatal Intensive Care Unit at Holtz Children's Hospital.
Sarah studied infant massage with Tina Allen who is the founder of the Liddle Kidz Foundation and a leading expert in the field of paediatric massage. This certification course allows RMTs to teach infant massage to parents. Sarah offers regular group workshops for infant massage for parents.
Sarah's Post-Graduate Courses Have Covered:
CranioSacral Therapy
Orthopedic massage
Sports massage
TMJ dysfunction
Cranial mobilizations
Visceral release
Infant massage
Sarah enjoys travelling with her family and maintaining an active lifestyle. She has been an avid runner for many years and completed a few triathlons. Sarah understands first-hand the impact that training plays on the body and how crucial bodywork is to achieve your athletic goals.
Sarah is a current member in good standing with the Registered Massage Therapists' Association of Ontario and the College of Massage Therapists of Ontario.